Good afternoon,
Thank you for participating in Florida Institute for Political Leadership's Campaign School and Leadership Training.
As a FIPL graduate, we're pleased to offer you an exclusive opportunity.
We have partnered with the Forum Club of the Palm Beaches to secure a limited number of seats at their monthly members-only events.
As a nonprofit organization, the Forum Club of the Palm Beaches is Florida's largest non-partisan political and public affairs organization. Since 1976 when President Jimmy Carter served as its inaugural speaker, the Forum Club has hosted a majority of the sitting U.S. Supreme Court justices and a variety of thought leaders whose words and actions affect the world in which we live.
The Forum Club of the Palm Beaches will present former Central Intelligence Agency Director, John O. Brennan, at a virtual lunch on Friday, October 9, 2020 at noon.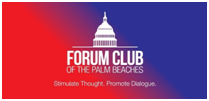 VIRTUAL LUNCH FEATURING
John O. Brennan
Friday, October 9, 2020
Program begins at noon.
Zoom Webinar
(Individual registration required to receive unique webinar access link)
Please register using the form below to reserve your seat.
Seating is limited. Please register only if you are able to participate.
Don't hesitate to contact us if you have any questions or concerns.
About the Speaker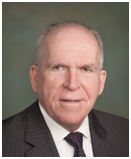 John O. Brennan served as director of the Central Intelligence Agency from March 2013 until January 2017. As director, he was responsible for intelligence collection, analysis, covert action, counter intelligence, and liaison relationships with foreign intelligence services. From January 2009 to March 2013, Mr. Brennan was assistant to the president for homeland security and counterterrorism, shaping the U.S. Government's counterrorism, cyber attacks, natural disasters, and pandemics.
Mr. Brennan began his government service at the CIA, where he worked from 1980 to 2005 and specialized in Middle Eastern affairs and counterterrorism. He served as CIA's intelligence briefer to President Clinton, Chief of Staff to then Director of Central Intelligence George Tenet, and Deputy Executive Director. In 2003, he led a multi-agency effort to establish what would become the National Counterterrorism Center, serving as the Center's first Director in 2004. He retired from the CIA in 2005 and worked in the private sector for three years.
Mr. Brennan currently is a Distinguished Fellow at the Center on National Security at Fordham Law School, a Distinguished Scholar at the University of Texas at Austin, a senior intelligence and national security analyst for NBC, and an advisor to a variety of private sector companies.
His memoir, Undaunted: My Fight Against America's Enemies, At Home and Abroad, is available for purchase on the Forum Club's website before, during and after the program and offered at special pricing for Forum Club attendees thanks to a partnership with the Palm Beach Bookstore.
About the Moderator

Margaret Talev is the White House & Politics Editor for Axios, a contributor for "Axios on HBO" and a CNN political analyst. She oversees Axios' coverage of the 2020 elections. Talev has covered the White House for more than a decade, previously as senior White House correspondent for Bloomberg News and White House correspondent for McClatchy Newspapers. She is a past president of the White House Correspondents' Association and the Washington Press Club Foundation. Talev is a member of the Council of Foreign Relations. She serves on the Board of Visitors for the Philip Merrill College of Journalism at the University of Maryland at College Park, her alma mater, and was a fellow at Harvard's Institute of Politics. Before reporting on President Donald Trump she covered Hillary Clinton's 2016 campaign, Barack Obama's 2008 and 2012 campaigns, President Obama's two terms in the White House, Congress and politics in Florida and California. Talev is Bulgarian-American.